Lyric Profiles: Producers
Whilst our Main House is dark, we thought we'd take this opportunity to showcase some of our lovely staff, all of whom are working hard behind the scenes to get the building ready to open its doors once again.
This week, we spoke to Producer, Helen Matravers (below, right) about her current working from home routine, how producers play an essential role in the industry, and what advice she has for emerging producers.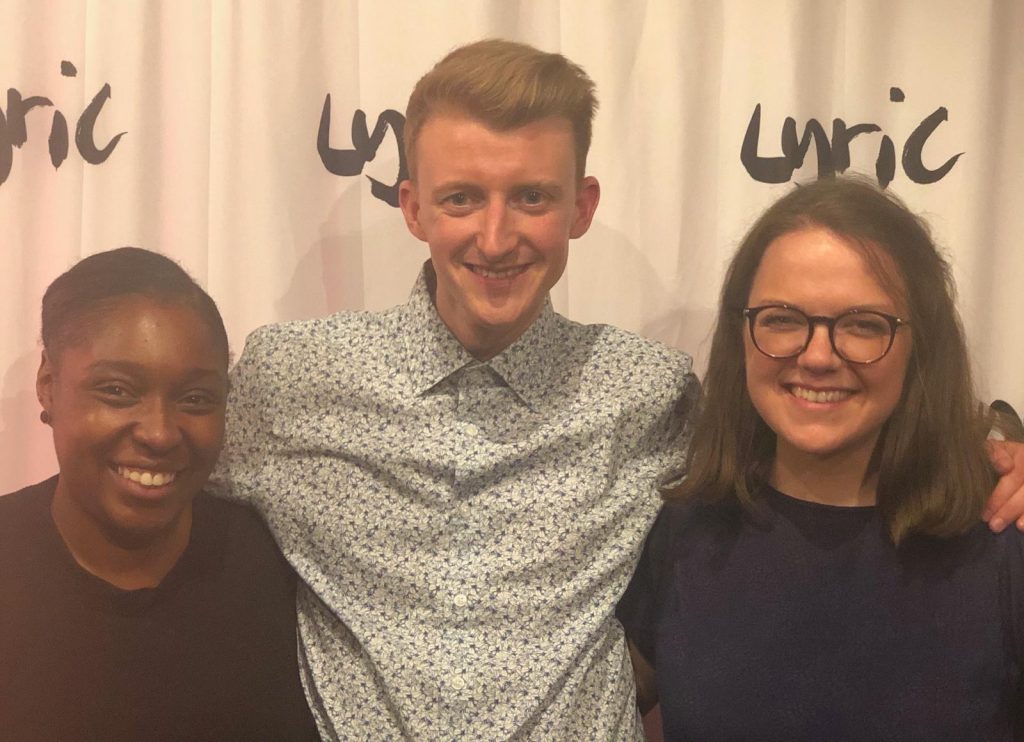 What does your job at the Lyric involve?
We are the producing department, made up of Senior Producer – Iain Goosey, Producer – Helen Matravers (me) and Assistant Producer – Fiona Sowole.
As producers, we work on all areas that involve getting shows to our main house stage, to our studio theatre, on tour and into the West End. We also work on some building based events, festivals, and activities that involve our local community and our brilliant supporters.
Our work begins from the commission or inception of an idea for a production (led by our Artistic Director – Rachel O'Riordan). We work very closely with her on everything from recruiting creative teams, contracting people, negotiating deals with agents, drawing up/managing budgets, performance scheduling, looking after our companies, right through to organising the drinks/gifts for press nights. We work closely with all the teams at the Lyric to ensure shows run smoothly and that they are the very best they can be for our fab audiences.
Why is it important?
A producer can be described as the central point of communication and action for most shows and activities. We liaise with everyone to make sure they have what they need, on time, and that it's all signed on the dotted line! A lot of work is done (behind the scenes) to ensure everything runs as smoothly as possible.
How did you get here?
I went to university and did a degree in Drama and Theatre Arts, followed by an MA at East 15 in Acting, but I very quickly decided that the control-freak in me didn't enjoy being an actor at all. Whilst deciding what job I wanted to do next, I worked in a pub with a theatre above it called the Drayton Arms and was offered the chance to run the theatre by the pub manager.
I learnt so much about company relationships, programming, fundraising and marketing in a short amount of time and headed off to enhance these skills as a Resident Assistant Producer at Theatre503. I then went on to the brilliant New Diorama Theatre, worked on in-house and visiting company shows, artist development and community engagement and was made their Senior Producer in 2018. I joined the Lyric in July 2019.
Can you describe your day to day (in the office)?
It's never the same, but would normally involve planning for upcoming shows – so anything from calling agents, writing contracts, arranging and attending meetings with writers/directors/lyric departments and setting budgets. Always kicked off with a cup of coffee and a check-in about any true crime shows/podcasts we have discovered overnight!
What is your day to day like whilst you currently work from home?
I'm trying to keep to a normal routine, so am up at the same time as I would be for work, and still kick off the day with one (or three) coffees. We haven't been WFH for long, but so far Zoom has been a great asset for checking in as a team first thing, and it's been important to keep sharing good news as well as handling the tricky parts of what this isolation entails.
My desk space at home has a large mirror in front of it, which is unnerving, so I have covered it over to replicate our working desk in the office, with everyone's names written out and placed where they would be sat – sounds a bit mad when I write it down – though I haven't started talking to them all…yet!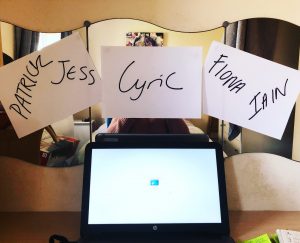 What'd you think is the most rewarding part of your job?
Sitting in the audience on first preview and seeing all the elements of a brilliant show come together. Most will have been months, if not years, in the planning and so much hard work from all departments and individuals will have been put in. Hearing about people's enjoyment of shows, and hearing that they can touch/affect or even change lives for the better makes it all worthwhile.
Do you have advice for new, emerging producers?
Create work you love, and make sure it's the very best quality it can be.
Take risks where you can, they always make for the most exciting theatre.
Surround yourself with supportive people in similar roles. Your peers are the best sounding board / emergency advice / encouragement. Join networks and attend events, the more people you can call on for help or support, the easier producing is.
Take regular coffee breaks, and never see more than 3 shows in a day at the Edinburgh Festival!
Anything about the industry you wish was different?
Lots! As with any industry it has its faults. But there are so many companies, venues, individuals in this industry who are amazing and I am always blown away by what is put on stages for often very little financial backing. And if we keep working for change, it can only get better.
What are you missing the most about day-to-day theatre life?
Seeing all the lovely people in the office and hearing the applause from a full house through the office intercom.
If you are able to support the Lyric at this time we are asking for donations to our Lyric Recovery Fund, you can donate here.