For more than 125 years, the Lyric Hammersmith Theatre has been at the heart of Hammersmith, and we are very happy to be able to welcome audiences back for performances.
We are committed to providing a safe and welcoming environment to all visitors, and we want to assure all audience members that their health and wellbeing is our top priority. We have put together a list of frequently asked questions that should explain all of the safety measures we have put in place, and should cover everything you can expect in a visit to our theatre. If anything is unclear, or you have a question that is not answered below, please do call our Box Office phone line on 020 8741 6850, or send an email to enquiries@lyric.co.uk.
We have been granted the use of Society Of London Theatre & UK Theatre's 'See It Safely' mark. The mark certifies that we are complying with the latest Government and industry COVID-19 guidelines, to ensure the safety of our staff and audiences. You can find out more about the measures theatres have been putting in place ready for your visit, and what you will need to know beforehand here.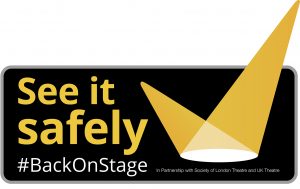 Is the Lyric Hammersmith Theatre open to the public?
We are thrilled to be able to re-open the Theatre for performances. We are currently only able to open during performance times, and we will only be admitting advance ticket holders. Our café will be closed and our Bar & Grill will be open just for drink collection for those who have pre-ordered their drinks. We'll contact you prior to the performance with details on how to pre order your drinks.
How can I purchase tickets?
All tickets are available online, and will be provided as e-Tickets only (we do not charge a delivery or administration fee). Tickets may be purchased up to two hours in advance of a show's start time. We will not be operating an in-person Box Office at the theatre during this time, so all tickets must be purchased in advance. If you are unable to purchase tickets online or are unable to receive your tickets as an email attachment, please call our Box Office phone number on 020 8741 6850.
What seats are available?
Out West will be performed using a socially distanced seating plan. We are operating on a 'bubble seating' mode: tickets can be purchased in groups of one and two, to a maximum of six tickets per transaction. Each group must consist of only one household or support bubble. All groups are spaced apart from each other in accordance with social distancing guidelines. 
Individual seats within available groups cannot be purchased separately. If you would like to purchase a ticket but there are no group sizes available that match your needs, or if you have any questions, please call our Box Office on 020 8741 6850 and we will assist you as best we can.
What track and trace measures are in place?
We are fully compliant with the NHS Test and Trace service – we require a contact phone number for the named ticket holder for each group of tickets, which will be used as contact details for all members of your party if it becomes necessary. If you do not provide your contact details, you will not be able to purchase a ticket. We also ask you to ensure you have signed up to the NHS Test and Trace app on your smart device. The information on how to sign up for the app and ability to 'check-in' will be available at the Lyric Hammersmith Theatre.
When can I take my seats?
We are operating seating on staggered entry times, to ensure that the theatre entrances do not become congested and to minimise any possible queues. When you purchase your ticket you will be given an arrival time specific to that seat in the auditorium. 
We will not be able to accommodate latecomers or re-admittance once you are in the auditorium – please ensure that you have everything you need before you take your seat.
What precautions will I need to take?
Prior to visiting, all ticket holders must confirm that they have read and agreed to our terms and conditions. We have hand sanitiser stations situated in numerous locations around the building, and we require everyone who enters the building to wash their hands before they make their way through our foyer.
We also require all audience members to wear a mask for the duration of the time they are within the building including during the performance, unless they are medically exempt from doing so. If you are unable to wear a mask, please let our Box Office team know, so that we can ensure our ushers do not bother you unnecessarily. All members of staff will be wearing masks.
What drinks and snacks are available to audience members?
We will be in contact with all ticket holders closer to the performance date with information about how they can pre-purchase drinks and snacks. No food or drink purchased elsewhere can be consumed on the premises.
What should I do if I am feeling unwell?
If you are feeling unwell, we can offer an exchange or credit voucher without a fee any time before 11am on the day of the performance. If you develop symptoms during the day of the performance, please contact our Box Office on 020 8741 6850 or by emailing enquiries@lyric.co.uk, and we will do our best to provide you with an exchange where possible
What happens if a performance has to be cancelled?
Should a performance not be able to go ahead, wherever possible we will reschedule and update all existing bookings to the new performance date. We will contact you directly to confirm your updated booking details, and you will then have the opportunity to exchange for free as required. 
If it is not possible to reschedule, we will contact you directly to ask if you would like to exchange for an alternative performance, receive a credit voucher, or receive a full refund.
Will there be a cloakroom available?
Unfortunately, we are unable to provide a cloakroom at this time.
What extra cleaning procedures do you have in place?
We have increased our cleaning rotas to cover all surfaces: the auditorium will be cleaned before every performance, and deep cleaned immediately following an audience departure; the toilets are cleaned at regular intervals throughout the day; and all surfaces are frequently cleaned while audience members are in the theatre.
How is the air circulated in the theatre?
The Lyric uses an air handling unit, which brings fresh air from the outside into the theatre. It does not share ventilation with any other part of the building.
How many people will be in the building at one time?
During performance times, we will be restricting entry to the theatre to ticket holders only, and our front of house team will be on hand to provide guidance for the safest routes around the foyer and bar areas.
We are currently operating on reduced capacity in the theatre, and we have created a seating plan that allows all audience members to sit 1m+ away from other groups. If you would like further information about how we created our seating plan, please contact the Box Office on 020 8741 6850, or at enquiries@lyric.co.uk.
Will I be able to purchase a programme?
Programmes are available to pre-purchase with your tickets, for collection from a designated point on the performance date.
Will I be able to use a hearing device?
Our induction loop system will be in place, as usual. We also have designated access performances for every show – for further information, please email access@lyric.co.uk.
Will I be able to use the toilet?
We have increased the cleaning rota for all facilities, and there will be access to toilets on each level of the theatre. However, to abide by social distancing guidelines, we will be unable to allow re-admittance to the theatre once a performance has started.
What are the provisions for wheelchair users?
On a reduced seating plan, we currently have one designated space for a wheelchair user and one companion per performance. We are able to add more spaces, so if there is a particular performance date you would like to attend and there is no wheelchair space available to book online, please contact the Box Office by calling 020 8741 6850, or by emailing access@lyric.co.uk.
Why is it still socially distanced even though the government has said that's not needed after June 21st?
The government guidelines are subject to change, and we are constantly in the process of reviewing and updating our procedures based on the recommendations. Socially distancing our audiences allows us to accommodate for changes to the government roadmap and ensures that audiences feel as safe and comfortable as possible on their return to the Lyric.
Will the performance change to non-socially distanced if guidance changes?
We do not plan to change any socially-distanced performances of Out West to non-socially distanced. We want audiences to feel secure and confident in their bookings, and to be fully equipped with all available information before they attend the theatre.
If you would like any further information about our re-opening plan, please do get in contact with our Box Office on 020 8741 6850 – we are glad to accept all feedback.
Will the foyer be open before the show?
In accordance with social distancing guidelines, audiences will be asked to head straight into the auditorium on arrival. In advance of your performance we will send you an email about how to pre-order drinks and how to collect these before the show.
Will I be able to sit with my friends?
In accordance with government guidelines we ask audiences to only book tickets with people in their household or support bubble.
What happens if I miss my timeslot? Will I still be able to enter the venue?
You will still be able to enter the venue if you miss your time slot, but we ask that you arrive as close to it as possible to ensure social distancing rules are followed.