For more than 125 years, the Lyric Hammersmith Theatre has been at the heart of Hammersmith, and we are very happy to be able to welcome audiences back.
We are committed to providing a safe and welcoming environment to all visitors, and we want to assure all audience members that their health and wellbeing is our top priority. We have put together a list of frequently asked questions that should explain all of the safety measures we have put in place, and should cover everything you can expect in a visit to our theatre. If anything is unclear, or you have a question that is not answered below, please do call our Box Office phone line on 020 8741 6850, or send an email to enquiries@lyric.co.uk.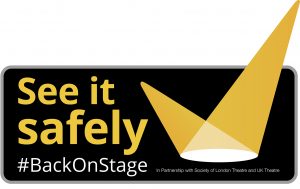 Is the Lyric Hammersmith Theatre open to the public?
We are currently only able to open during performance times, and we will only be admitting advance ticket holders. Outsider Tart @ the Lyric is open from 9am to 8pm every day, and advance bookings for drinks at the Lyric Bar can be made by emailing reservations@lyric.co.uk. If you are a ticket holder, you will be contacted in advance giving you the option to pre-order drinks.
To find out what's on visit https://lyric.co.uk/whats-on/shows/
How can I purchase tickets?
All tickets are available online, and will be provided as e-Tickets only (we do not charge a delivery or administration fee). Tickets may be purchased up to two hours in advance of a show start time. If you are unable to purchase tickets online, please call our Box Office phone number on 020 8741 6850.
What test and trace measures are in place?
We continue to take the contact information for the named ticket holder at the point of booking. When you attend the theatre, you will also have the option to check into the venue using the NHS test and trace app – out venue QR code will be at the main entrance.
What precautions will I need to take?
Prior to visiting, all ticket holders must confirm that they have read and agreed to our terms and conditions. We have hand sanitiser stations situated in numerous locations around the building, and we request everyone who enters the building to wash their hands before they make their way through our foyer.
Out of respect for fellow audience members and the company, we encourage all audience members to wear a face covering when sat in the theatre, unless you are exempt. All members of staff will be wearing masks in the building, unless they are exempt.
What drinks and snacks are available to audience members?
All audience members will be contacted in advance of the performance with the option to pre-order drinks or snacks. Any food or drink purchased elsewhere cannot be purchased on the premises.
What should I do if I am feeling unwell?
If you are feeling unwell, we can offer an exchange or credit voucher without a fee any time before 10am on the day of the performance. If you develop symptoms during the day of the performance, please contact our Box Office on 020 8741 6850 or by emailing enquiries@lyric.co.uk, and we will do our best to provide you with an exchange where possible, which will be subject to an administration fee.
Will there be a cloakroom available?
Unfortunately, we are unable to provide a cloakroom at this time.
What extra cleaning procedures do you have in place?
We have increased our cleaning rotas to cover all surfaces: the auditorium will be cleaned before every performance, and deep cleaned immediately following an audience departure; the toilets are cleaned at regular intervals throughout the day; and all surfaces are frequently cleaned while audience members are in the theatre.
How is the air circulated in the theatre?
The auditorium receives a constant supply of fresh air from its own dedicated air handling system. The system is designed to ensure that all of the air within the auditorium is replaced with fresh, clean air approximately every 9 minutes. All air brought into the Auditorium is supplied at roof level before passing through a filter system.  This helps us guarantee that the air you'll breathe is as clean as it can be.
How many people will be in the building at one time?
During performance times, we will be restricting entry to the theatre to ticket holders only, and our front of house team will be on hand to provide guidance for the safest routes around the foyer and bar areas.
Will I be able to purchase a programme?
Programmes are available to pre-purchase with your tickets, for collection from a designated point on the performance date.
Will I be able to use a hearing device?
Our induction loop system will be in place, as usual. We also have designated access performances for every show – for further information, please email access@lyric.co.uk.
Will I be able to use the toilet?
We have increased the cleaning rota for all toilet facilities, and there will be access to toilets on each level of the theatre. However, to abide by social distancing guidelines, we will be unable to allow re-admittance to the theatre once a performance has started.
What are the provisions for wheelchair users?
On a reduced seating plan, we currently have one designated space for a wheelchair user and one companion per performance. We are able to add more spaces, so if there is a particular performance date you would like to attend and there is no wheelchair space available to book online, please contact the Box Office by calling 020 8741 6850, or by emailing access@lyric.co.uk.