15 Young People. 10 Days. 1 Show.
Lyric Hammersmith Theatre and the Science Museum collaborated on a show for, and by young people. Our Director of Young People, Nicholai La Barrie, spoke to us about the process and what it means for the future.
-Blog by Nicholai La Barrie, our Director of Young People
Liar. Heretic. Thief. is an epic poem that spans 300 years and takes us from the birth of scientific method as we know it to the foundations of the London that we live in today. We had ten days with our company of 15 young performers to craft a show in collaboration with the Science Museum. This is how we made it…
Last autumn, the Science Museum's Learning Team got in touch with the Young People's Team at the Lyric and asked if we would be interested in partnering on a project that would bring one of their new galleries to life for young people. Myself and Lara Taylor, our Producer of Emerging Talent, went to learn what the gallery was going to be about… In the bowels of the Science Museum, we sat and listened to some very smart people present Science City 1550-1800.
Before I tell you what Science City is, let me tell you how I feel about the Science Museum – it's brilliant. If you've never been before – go. It might be one of the coolest places in London. If you want to feel like your 6 year old self again, go stand in front of the Tesla coil, or under the wings of the biggest single-person aircraft ever built. Treat yourself. Go now.
…So Lara and I are in this little room and they present us with Science City, something they've been working on for five years; the gallery is essentially about how London grew from a lively capital to a global hub of trade from 1550 – 1800. What were the things that were invented during that period that allowed it to expand so rapidly? And who were the scientists behind it?
"The idea was to make a show that brought to life the Science City gallery – and to make it accessible to a younger audience." 
When we finish our cups of tea, we shake hands, leave the museum and get on the train… then we turn to each other and say: "There is no way we can make something theatrically interesting out of what we just heard…" We leave it for a day of two with ideas still spinning in our heads and then Lara makes a suggestion: "What if it's about the scientists themselves, and how they had to fight for truth?" I'm still like, "I don't know…"
And then we hit gold.
The Royal Society.
That's when we came up with Liar. Heretic. Thief. Our question was, "Who were these great men and women and how did their imaginations lead to the London we understand now?" We found ourselves going down a rabbit hole after that. We found books from the 1550s, handcrafted instruments which we weren't supposed to touch, and incredible stories of bitter feuds and friendships between the greatest minds of all time.
But how do you condense 300 years of history into 45 minutes? Simple. You get Sean Mahoney. He is a fantastic poet and after nerding out with Lara, Gavin (our Assistant Director), and myself he goes off and writes a love song for London: Liar. Heretic. Thief.
The idea was to make a show that brought to life the Science City gallery and make it accessible to a younger audience. At the Lyric we seek excellence in everything we choose to do, and this project was no different. We built a touching, honest and funny piece of theatre, with a group of young performers that were so passionate about the history and these iconic figures that they brought them to life with real grace.
When art and science feed each other's imagination we are touching the future. We were invited to perform the show at the opening of the gallery – Wes played Robert Hooke, Alana played Christopher Wren, Jake played Issac Newton, all in front of the instruments that they made, the books they wrote and their portraits. We are all part of the story. What remains behind us will build what is to come after us. We must ask ourselves: how will history tell our story?
You start a staring contest
with the infinite.
Look up, examine the past
Connect the dots
name the stars
Until that night sky
Looks back
And begins to dance.
– Sean Mahoney: Liar. Heretic. Thief.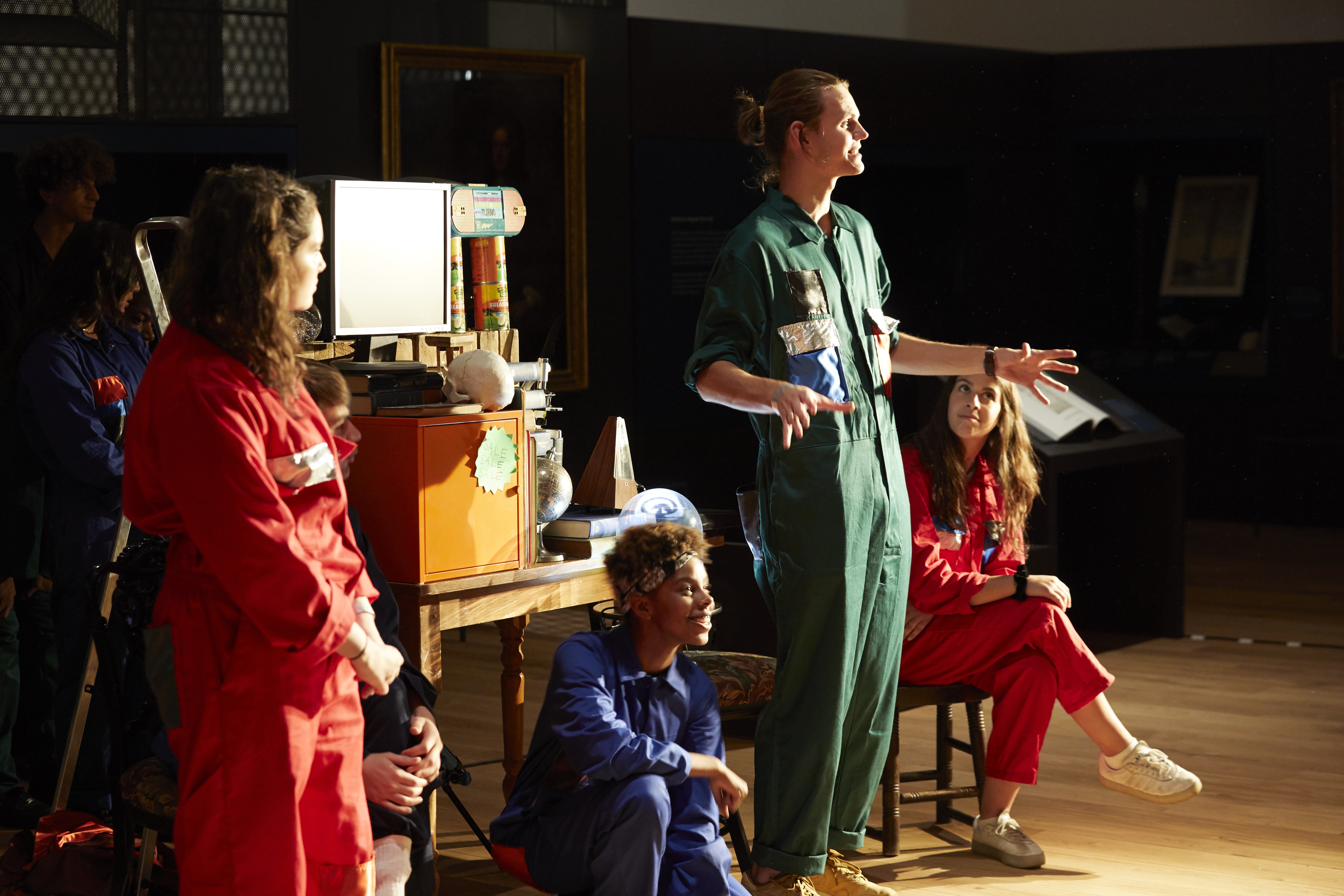 Photo by Jody Kingzett (C) Science Museum